23 Nov

Christ the Servant King – Proper 29, November 20, 2022
Preacher:  Rev. Stephen McPeek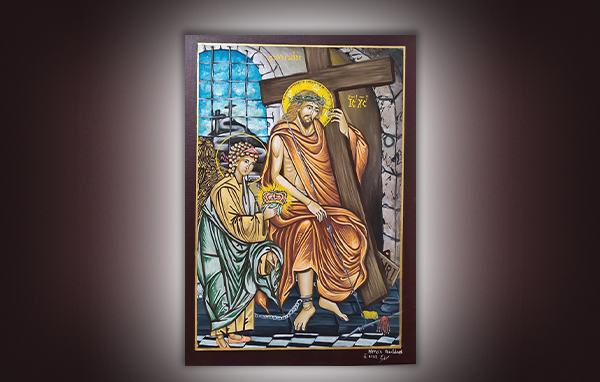 Today we celebrate the Feast of Christ the King which is our name day. We are also celebrating the 65 th anniversary of the founding of our parish. It's a special day and I am thankful that I get to be a part of the history of this wonderful
parish. One of the things that impresses me the most about CtK is the long history of relationships that starts with the kids who have grown up together in Sunday School, Junior and Senior Youth, and Young Singers. The bonds that
remain even when people have moved on are extraordinary. Yesterday we had our altar guild workday. In the same manner, I was impressed by the many who turned out to help and how long some of them have been associated with CtK. (Jean, Christine, Carol, Marianne, Sylvia) And they all lovingly welcomed those who are new (Udo, Jutta, Anja, Eddie, Ahjad) For all of this, I give thanks.
What does it mean to be the Church of Christ the King? Who is Christ the King to you? I want each of you to write down or draw the most important characteristic of Christ the King to you personally.
Our readings take us on a roller coaster ride looking at the different sides of Jesus. The reading from Jeremiah is a really bad scolding to the leaders of that time who were not living in a way that reflected who God was as a leader. But it also promised us a really good leader who will come and take care of us like a shepherd takes care of his sheep. It promised to show us how to be leaders like Jesus so that people will have a safe place and will no longer be afraid, a place where people are treated rightly and fairly, where all people are treated with the  same love and respect and there is no favoritism, a place where those who are suffering – people like orphans and widows, refugees and marginalized people will all have a place and are welcomed and accepted.
Then we come to the reading from Colossians. As in other readings from the past week, Paul and Timothy pray that our eyes would be opened and that we would be filled with all knowledge, wisdom, and spiritual understanding. They know that when the eyes of our hearts are open, we will be able to see and understand Jesus more and more. 
In their letter to the Colossians, they say that Jesus is:
The image of the invisible God.
All things in heaven and earth have been created in him, through him, and
for him.
Christ is before all things.
In Christ all things hold together.
In Christ all the fullness of God was pleased to dwell.
In Christ, God has reconciled all things to himself in heaven and earth.
In other words, Jesus – this man who his friends could actually see and touch, eat with and speak with – is God. If we know Jesus, we know God. If we are connected with Jesus, which we are through our baptism, then we are connected
with God and all that God is.

The reading in Colossians shows us that God has come to earth to show us who he is, and to give us a chance to know him intimately, and to work with him to make all things right again.

Finally in our Gospel reading, we see a side of Jesus that makes him so different from any other who claims or has claimed to be a savior of mankind or who claims to be any kind of deity or royalty. We see Jesus lay down his heavenly power and walk straight into the mess of our human lives. He gets dirty to the point of death. He allows himself to be mocked and beaten, and then to be nailed to the cross. He does this to make peace for us and to make a way out of all that is bad and harmful, all that is dark and evil in our lives.

What other royalty or deity would do something like this? What other royalty or deity would get down on his knees to be with us and then sacrifice his own life for us? What other would serve us like Jesus did? There is none that I know of.
When the eyes of our hearts are open like Paul and Timothy pray for, we will catch a glimpse of this Jesus and it will forever change and continue to change our lives. Then it will not be so difficult to answer the questions when we renew our baptismal covenant:
Do you turn to Jesus Christ and accept him as your Savior?
Do you put your whole trust in his grace and love?
 Do you promise to follow and obey him as your Lord?

After Communion, we will sing a song called The Servant King. This anthem, written by one of my favorite Christian songwriters, Graham Kendrick, captures the essence of Christ the King.

From heav'n you came, helpless babe,
Enter'd our world, your glory veil'd.
Not to be served but to serve,
And give your life that we might live.
This is our God, the Servant King,
He calls us now to follow Him,
To bring our lives as a daily offering
Of worship to the Servant King.
My siblings in Christ – knowing Christ, the Servant King, and emulating him, copying him, by the way we live, regardless of whether we have a lot of power of a little power – being loving servants of all – this will truly mark us as worthy to bear the name the Anglican/Episcopal Church of Christ the King.
The Collect
Almighty and everlasting God, whose will it is to restore all things in your well-beloved Son, the King of kings and Lord of lords: Mercifully grant that the peoples of the earth, divided and enslaved by sin, may be freed and brought together under his most gracious rule; who lives and reigns with you and the Holy Spirit, one God, now and for ever. Amen.