25 Nov

Blue Christmas Service: What is it?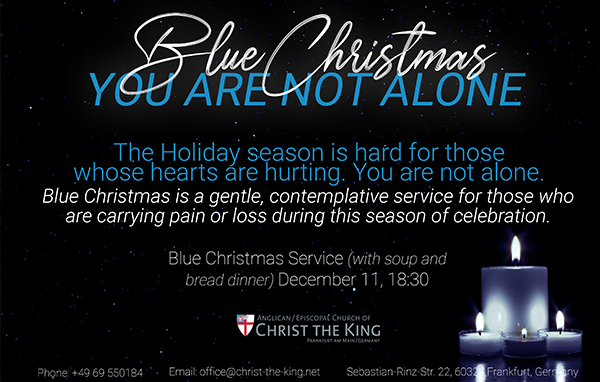 A Blue Christmas service is one which creates the space for people to safely acknowledge their "blue" feelings during the Advent and Christmas seasons.
For many the holidays are painful as we remember the deaths of loved ones, grapple with life transitions, or experience loneliness. It can be difficult to experience these feelings when everyone around us seems full of joy and togetherness. Sometimes it can feel as though we are bringing down our friends or community by not joining in with the happy feelings. This can further increase feelings of loneliness and grief.
Blue Christmas services are often held on December 21, the longest night of the year. They can take many forms, including Eucharists, healing services, acts of remembrance, and prayer services. Many include hymns and readings appropriate for Advent. Our 2022 CtK Blue Christmas Service will be held on the 3rd Sunday of Advent, December 11th at 18:30. The service will be followed by a simple soup and bread dinner.
The hope of a Blue Christmas service is to be a time in which the feelings of loss, sorrow, grief, and loneliness are able to be named and allowed in community, while creating the space for God to enter in and offer comfort and healing.