25 Nov

We asked each one to write something down that you appreciate about Christ the King – 2022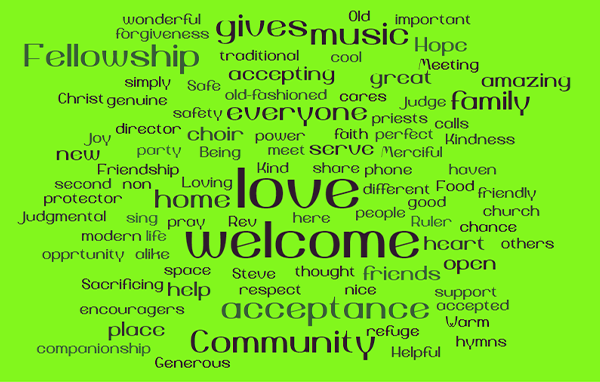 what you wrote:
Christ the King is a family in Christ for me. Here I can help others like with the Christmas shoe boxes.
It is amazing. It is cool here. The music is great. The songs are great. The party is great.
I love the fellowship at coffee hour and phone calls from my CtK friends.
Hope, love, safety
Fellowship
Unconditional love
Acceptance of everybody
CtK is precious to me because of the welcome given to newcomers and the capacity to give the possibility to serve very quickly.
Community
The amazing choir
The way Rev. Steve leads the service – clear, warm and straight to the point.
Old and new, old-fashioned and modern, different and alike, keeps trying to continue it all.
Food for thought
A place where friendly, open people come to worship God, the Father of our Lord and Savior, Jesus Christ.
My home church, the place where I meet people whom I don't meet on an everyday basis, a place where I can be in the presence of God.
Welcome and fellowship
Being accepted with love and respect, wants and all, like in a family.
That I meet new good friends every time.
It's like a church that dies not judge.
Community, friendship, welcome, unconditional love, accepting welcome to all
Everyone is welcome
Kindness and forgiveness
Not being judged
I love that it's a place where everyone is important and welcome to serve and help, or simply pray, sing, share faith.
Safe space
Hope
Community love, a feeling of being home, refuge
A family within a family
A family that cares about each other.
A haven of companionship, welcome, acceptance, joyl
Community
An open, accepting church teaching the Gospel of Christ
The genuine acceptance of everyone.
CtK helps me in many ways, teaches me to be more generous, loving, kind, and helpful, gives me friends, encouragers, support, heart love. Thanks be to God.
The priests, fellowship, music.
Christ the King Frankfurt is home.
I love the old traditional songs from the hymnal sung at CtK.
The wonderful music. CtK's organist/music director and choir are a real gem.
Christ the King is in every person feeling bad and in need of help and love.
Christ is all love to us all.
The love of Christ for his people, acceptance of everybody.
Sacrificing his life for us.
He's nice.
Christ the King – Ruler of my heart
The power in the name of Christ Jesus is the only power above all.
Christ the King is my protector. He is a merciful God. What I love about him is that he loves me unconditionally. He always gives me a second chance to correct myself and he helps me in doing so.
Christ Jesus provides a perfect place for us as a family.