10 Jul

The Long Goodbye, Part II – Walking in Authenticity and Vulnerability – Sixth Sunday after Pentecost – Proper 9 – July 9, 2023
Preacher: Rev. Stephen McPeek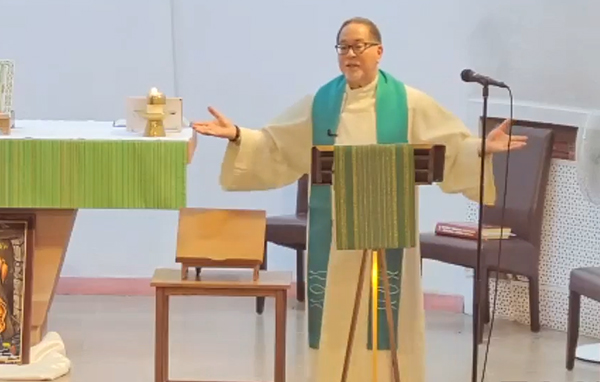 Last week I started sharing with you the things I want you to remember about me and learn from me. It seems a bit presumptuous for me to invite you to imitate me because
the real invitation to all of us is to imitate Christ.
But sometimes it is hard to imagine what Christ is like. God calls us to be Christ to the world so that when people encounter us, they encounter Christ. We will never be fully as Christ, but we grow with each step of our journey to be more and more like Christ. Because of this, I courageously invite you to imitate the things in my life that you love because you experienced them Christ in me.
In May 2022, I wrote the following to you:
 

"A priest is someone who stands in a place of remarkable vulnerability, and by doing so, invites other people to enter the sacred."
This powerful quote comes from a book titled Queer Virtue by Rev. Elizabeth M. Edman.  It gave words to what I have always thought, at least for myself. Even though we ordain priests in the Episcopal Church, we also believe in the priesthood of all believers. This means that everyone who is a follower of Christ is called to be a priest – to minister to God and to minister to people. According to Edman's definition, this means that all of you are called to stand in a place of vulnerability in order to invite others to enter the sacred.
Edmond also writes, "One way a priest lives stands in a place of vulnerability is by living a relationship with the sacred in a way that others can see. That's why a priest vulnerability is important – people can see it, and be encouraged by it, and join into it, knowing they are not alone in approaching the sacred. A priest thus consciously cultivates an awareness of the sacred, and conspicuously lives in a way that makes entering the sacred more possible. A priest lives into the realities that theologians perceive. Which is to say, "a priest connects the lived reality of our lives with a theological understanding of the God we worship."
I truly believe that this is what so many people long for. People want to see something that is real and that is integrated in our lives. One of the biggest steps we can take to counter the notion that the church is full of hypocrites is by living lives of vulnerability and authenticity – by being open and real about our true lives and our lives with God.
One of our congregants once made the comment about me, "I THINK you are authentic and genuine most of the time." There was a bit of uncertainty in that statement, probably because so many leaders feel they must maintain a certain façade and guard their reputation as a spiritual leader. They are afraid of being seen for who they are, and parishioners wonder who the "real" priest is.
I know I share very openly about my life- at least more than is suggested  in seminary.  There are two reasons why I live my life openly. The first is that this is just how I am. What you see if what you get. I believe this has to do with being authentic. It has to do with being the same person on the outside that I am inside. For so many years I couldn't like authentically because I subscribed to a certain type of theology that didn't allow it. Because of this, I lived in a constant tension between the person I was expected to be, and that I was trying to be outwardly and the person that I was inwardly. Living honestly where your inside world matches the outside world – this is the definition of integrity. When I came out, one of my best friends was so devastated and he said to me, "I feel like you are breaching your integrity so badly." My reply? "Actually, I feel like, for the first time in my life, I am finally living in integrity."
Secondly, I feel that it is important that those I lead can see how I navigate life with God in good times and in bad times, so that they know that faith is real and that God helps us navigate all of life's challenges.
It is in the place of vulnerability and authenticity that we encounter the sacred, we encounter God, and make space for others to encounter God. And it is the place  and where genuine relationships are built.
I was vulnerable in my grief and you saw how I stumbled with God through the darkness. You watched me get down on the floor and worship silently after Michelle lost her life. You heard me raise my voice in praise to God after Vinny died. You saw me shed tears of pain. Recently someone said to me, "I am thankful for your tears." I thought that was an unusual thing to be thankful for but what I think was meant is that seeing my tears let that person and others know that it is okay to cry. "If my priest can cry, I can cry." My oldest son wrote me a note saying," I am so thankful that I have a father who isn't ashamed to cry."  I hurt so badly in those days, weeks, and months, AND I trusted God and held on to God's faithfulness.
I have been vulnerable in speaking about my journey as a gay man. On the one hand, my sexual orientation is nobody's business. At the same time, there are many people, young and old, who are fighting the same battle to live openly and authentically but are prevented by the fear of rejection by family, church, and society. People from the LGBTQ+ community have been so deeply wounded by the paradigms we grew up in, and sadly many stay away from church because the church has been one of the main perpetrators of this paradigm.  It is important that such people can observe how I navigate this part of my life.
Being authentic automatically forces us into vulnerability because we are living our truth. The good thing about it is that there is no claim to or expectation of perfection in authenticity because authenticity means being honest with where we are at. And we are honest about what God is doing in our true lives and where we are at in our faith journey. It is such a huge relief to live like this.
Imitate me as I seek to imitate Christ: learn to live authentically and endeavor to be vulnerable. This doesn't mean you need to share everything with everyone. Rather it means living in a spirit of honesty, sharing when appropriate, and not trying to be someone you are not, not trying to act like you are strong when you are weak. This is where others will see and experience God in your life. Allow others the freedom to be authentic and vulnerable with you. It is so much better to be real than to uphold a façade.
There was no one more authentic and vulnerable than Jesus. Because of Jesus' vulnerability, we are able to see and experience God.
Our Gospel reading ends with, "Come to me, all you that are weary and are carrying heavy burdens, and I will give you rest. Take my yoke upon you, and learn from me; for I am gentle and humble in heart, and you will find rest for your souls. For my yoke is easy, and my burden is light."
Perhaps we could see this as an invitation to lay down the burden of striving for something that is not real or honest, trying to maintain an outer façade rather than living in the freedom of integrity. The yoke of Jesus is called BELOVED. You and I are beloved. Jesus calls us beloved and this is the invitation to be who were are, live lives of authenticity and vulnerability.
At communion you will sometimes hear me say, BELOVED, the body of Christ, the bread of heaven. When you come to communion today, listen for that word and let it resound in your spirit.