09 Jan

A God Who Shows No Partiality, First Sunday after the Epiphany, January 08, 2023
Preacher: Rev. Stephen McPeek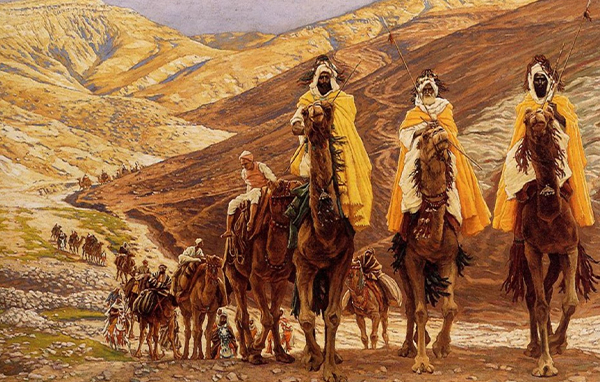 Today in the Episcopal Church, we celebrate the Baptism of our Lord Jesus Christ. We commemorate the Feast of the Epiphany which was celebrated on Friday. Many churches celebrate the Feast of the Epiphany on the Sunday following January 6th, the 12th day of Christmas. Our Book of Common Prayer gives us instructions on what to do if a special feast is celebrated on a weekday. In this case, we are allowed to use the Gospel reading from the Feast of the Epiphany.
The next 6 Sundays mark the season of Epiphany. The core theme of this season is "epiphany" which means revelation or realization, a discovery or new manifestation.
The season began on Friday with the Feast of the Epiphany featuring the Gospel reading we will use today that tells of the revelation of Christ to the Magi, the first Gentiles to honor Christ. The season moves along with a series of epiphanies:
Jesus revealed as God's beloved Son at his baptism, which we celebrate today;
Simeon and Anna recognizing the light of God in this child at the Feast of the Presentation;
 Jesus' first disciples called away from their daily lives to join his mission; his early healing and preaching, drawing crowds;
and finally the revelation on the mountaintop as we receive the Gospel of the Transfiguration on the last Sunday after the Epiphany.
Some images for the season include Christ as the Light of the World; light, illumination and glory; revelation – of mystery, holiness, and love; wandering and seeking. In all of this, we are called to bear witness to the light and love of Christ.
"If Advent prepares us for the coming of God and the call to final transformation under God's reign, and Christmas celebrates its inauguration in Christ, then Epiphany turns us toward the outworking of our participation in that reign as followers of Jesus by following him into his ministry," says James Farwell, professor of theology and liturgy.
Our readings today are riveting. Both the New Testament reading from the Acts of the Apostles and the Gospel reading from Matthew highlight a major epiphany and that is the epiphany THAT GOD SHOWS NO PARTIALITY, but in every nation anyone who fears him – who loves and respects him, and does what is right is acceptable to him.
Growing up, I remember singing about the 3 kings from the orient who came bearing gifts. It was all part of the Christmas story as if it were the most normal thing in the world. If we delve into the story, and allow the cliché to be shaken out of it, we see something very stunning. This group of people, whether two or three (nowhere does it say three), are "the other." They do not belong to the religion, to the group of people that had been the insiders with God. In fact, they were so different, and they practiced a form of religion that had been forbidden in the Torah, namely to rely on the stars.
First, they were "magi." The standard Greek-English lexicon, BDAG, defines the magoi as "Wise man and priest, who was expert in astrology, interpretation of dreams and various other occult arts." If we look to the world behind the text in Matthew, the translation of the word as seen in Acts 13 is sorcerer. One Bible dictionary says that the term magoi "loosely covered a wide variety of men interested in dreams, astrology, magic, books thought to contain mysterious references to the future, and the like. Some Magi honestly inquired after truth and were wise counselors to kings; but many were rogues and charlatans."
On the one hand, it is stunning that these people were led by a natural phenomenon, and following their intuition and their way of life, they took an arduous journey of 900 miles. And when they found the baby that they had heard about through the prophets and knew about through their practice of observing the stars, they had two responses. Firstly, we read that they were overwhelmed with joy. They rejoiced very much with great joy. Secondly, they fell on the ground and worshipped the child.
In our intellectual world, we would discount this whole story. First of all, we probably would not want this kind of people to be the first to discover such an earth changing event. They are not one of us, they do things that God has forbidden, they dress differently, the look different and smell different. Second of all, we simply don't believe that people who are close to nature are relevant.
On the other hand, it is not stunning at all that God chose exactly these people to be the ones to call the world's attention to Jesus, and to protect him from a ruthless king who was actually one of God's people.   It is not stunning at all because it was always God's intention that all peoples of the earth would know and love him. This is the epiphany of the moment – that all are welcome at the crib.
Our reading in Acts underscores this truth. It is the story of Cornelius, a good man who had a devout faith in God even though he was "the other," not an insider. His faith was not good enough and never would be good enough. Cornelius has a dream and sees a man in bright clothing, a holy angel, giving him instructions to seek out Peter. Peter is a Jewish Christian leader. He is still philosophically imprisoned in the mindset that only a certain type of people have true access to God. Everyone else, no matter how much they love God and live good lives, is unclean, unacceptable, second rate. Peter is stuck in this paradigm.
He, too, has a dream, a trance or vision. In this dream, he is instructed to do something that goes so horribly against all he has learned and believed in. His sees a sheet coming down from heaven full of the kinds of animals he is not supposed to sacrifice to God or to eat. The Spirit of God spoke to him and commanded him to sacrifice them and to eat them. This command is so shocking, but the magnitude of the command is what it took to shatter Peter's paradigm. "What I have called clean, do not call unclean," is the message given to Peter. Peter understands immediately that the way he had been seeing non-Jews is not the way God sees it.
From this epiphany, Peter is able to declare in a 180-degree turnabout that GOD DOES NOT SHOW PARTIALITY, he is not a respecter of persons, God does not discriminate or show favoritism . Rather, God loves and welcomes all people who respect God and do what is good and right.
This is the same epiphany of the manger – that God has come into the world once again and is accessible to everyone. All are welcome without discrimination.
A little over a year ago, the adult child of one of our long-term parishioners asked her parents, "Is everyone really welcome in the Episcopal Church, at CtK?" The fact that this question had to be asked broke my heart because it conveyed insecurity based on experience. Truth be told, there is a long history in the Christian Church through all generations, and in the Episcopal Church, that the epiphany of the manger has been obscured by prejudice and discrimination, and people who did not fit a certain category were excluded from the life of the church. We would surely love them and pray for them, but they could never teach Sunday school, never be involved in a ministry at the altar, and certainly never become a priest or bishop. And some groups would simply be shunned as an acceptable way of treating people who are different. Have you ever been shunned? It is such a painful thing. I have been shunned and am still shunned.
I am so thankful that the Episcopal Church is doing the hard work of uncovering areas of discrimination and favoritism. We have a horrible track record when it comes to racism, male dominance, and elitism. But we are a church on the move.
As we reflect on light and love this morning, I pray two things:
1.     I pray that every one of you would know that you are deeply loved and accepted, no matter what your bent or flavor is. You are one of God's Beloved. You are welcome at the table of God even if you are at the beginning of your journey. Maybe you feel like you are one of the magoi or a Cornelius. Hear this from me very clearly: You are welcome here, you are a Beloved child of God. And if you have ever been shunned or ostracized for who you are, by me or by our church, I humbly ask you for forgiveness. If you have experienced this, please come talk and pray with me.
2.     I pray that no one will ever have to ask the question again, "Is everyone really welcome at CtK?" I pray that our commitment to love every single person who comes through our doors and into our lives is so vibrant and unflinching, that even if someone who is so different walks in, maybe more different than we have ever known, that our arms will be open. And I pray that people will take notice.