06 Jul

The Long Goodbye, Part I – Imitate me: Loving Each Other and Loving God – Fifth Sunday after Pentecost – Proper 8 – July 2, 2023
Preacher: Rev. Stephen McPeek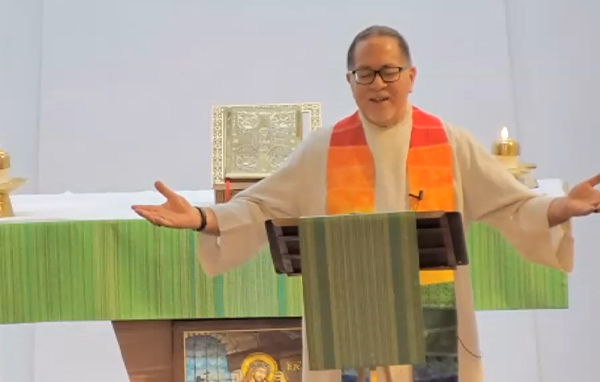 The countdown is on. Only 6 weeks to go until Alexis and I head south. My trip to the USA last week was very successful and I was able to get many things settled and lined up for my retirement and for the move to Spain. I committed to you a few weeks ago that I will remain engaged until the end. It is easy in such a situation to be a lame duck just waiting for the end to come. It almost feels like yet another death. There is too much to do to be a lame duck and your vestry is working hard to ensure a smooth transition.
One of the questions looming in my head is: What will they remember about me? What legacy will I leave with them in spite of being here for such a short time.
Many of you have written me notes and sent emails or expressed to me in person how much you will miss me, often with tears. I have been asking myself why you will miss me so much. At the risk of seeming self-centered, I want to go off script a bit with my sermons in the next couple of weeks and share with you the characteristics about my life that you love that are the reason you will miss me. I want to invite you to imitate me just as Paul said to the followers of Jesus in 1 Corinthians 11:1: And you should imitate me, just as I imitate Christ.
LOVING YOU
The main reason that you will miss me is that I loved you. In my first sermon on October 11th, 2020, this is what I said to you:
This is my commitment to you, dear siblings in Christ at CtK:
I will do my very best to love and care for you,
to guide you, and
to be a staunch advocate and ally for you.
I commit to be compassionate and merciful with you.
I commit to be kind and hospitable towards you.
I commit to lead firmly and always in gentleness and love.
I commit to speak directly to and with you if I have questions, don't understand, or don't agree. I will not gossip about you or talk behind your back. I will not gossip about others with you, and I will not entertain gossip about others from you.
I will be a good shepherd to you and will serve you with love.
This is my commitment to you individually and corporately.
God has called me here and I am here for you. You may hold me to these commitments.
I can sincerely say that I have loved you (and continue to do so). I expressed my love to you be being kind and caring to you, listening intently to your stories, praying for you, and consistently showing up for you, even in the midst of my own personal suffering. You are and were important to me. As is normal in the Episcopal Church, when a priest moves away, we are asked to cut all pastoral ties so that the new priest can assume his or her pastoral responsibility. This is hard for me but I can assure you that I will continue to pray for you.
Not only did I love you, but I loved, welcomed, and blessed those God sent our way – people from other faiths, people running from difficult situations, people who were uncomfortable and difficult for some of us. How I wish I would have had the capacity to be even more present to you, especially those who live far away and are not able to make it to in-person services. It fulfilled me to love you and I know that this is God's love at work in me and that has transformed my life. 
It is this atmosphere of love that is drawing people to CtK. I marvel at the diverse group of people who have "stumbled upon us" and have been drawn to what they see and experience at CtK. 
LOVING AND TRUSTING IN GOD
You saw me loving God and hanging on to God by the skin of my teeth as I traversed the valley of the shadow of death. Psalm 13 from today resonates with me. The psalmist wrote, "How long shall I have perplexity in my mind, and grief in my heart, day after day? How long shall my enemy triumph over me? Look upon me and answer me, O Lord my God, give light to my eyes, lest I sleep in death; lest my enemy say, I have prevailed over him, and my foes rejoice that I have fallen.
BUT I PUT MY TRUST IN YOUR MERCY, MY HEART IS JOYFUL BECAUSE OF YOUR SAVING HELP. I WILL SING TO THE LORD, FOR HE HAS DEALTH WITH ME RICHLY; I WILL PRAISE THE NAME OF THE LORD MOST HIGH.

 
My faith is real, and it is sincere. It is this faith in God, a gift given to me, not something I have accomplished, not something I worked for, but a gift. My only work was receiving the gift and letting it grow. God has sustained me and enabled me to "dance in darkness" as one of the daily meditations from Fr. Richard Rohr calls it. I can honestly say that I have been able to put my trust in God's mercy and that my heart has been joyful and full of praise through the challenge of covid and the challenge of personal tragedy.
Dancing in the Darkness
United Church of Christ minister Otis Moss III reflects on joy's availability even in difficult times. During a harrowing period when his church received violent threats, Moss woke late one night to unexpected sounds in his house. Fearing an intruder, Moss instead discovers his daughter dancing in her room. 
Her movements were so jubilant, her spirit so free of worry or fear that I couldn't even stay mad at my baby girl.
She's dancing. The darkness is all around her as it's all around you—but she's still dancing….  
Instead of seeing Makayla as just another addition to the night's problems, I glimpsed her as a fellow traveler…. Like her frightened father, this six-year-old fellow traveler was awake in the night.  
Even so, there was a difference. I was caught in a cycle of worry and anger. I was not just walking a dark path; I had let the darkness inside me. Evil always seeks to obscure the light, because once it has you living in darkness, that which should not be painful becomes so….  
What we forget, faithwise, in our fear—what I was forgetting that night in my daughter's room—is that even in the darkest night, when we see no light at all, the light is still there. The sun is still shining over Earth even when our side of Earth rotates away from it. The stars still shine above us, no matter … how thick the clouds above our heads. What we need in the darkest nights is to keep walking along the path until we can glimpse the stars again. What we don't need is to panic and run blindly into the woods.  
Makayla was just a child, but on this night, she had moved ahead of me on that path. By dancing in the dark, by doing one of the things she most loved, she was making her own light.…  
The enduring words of Psalm 30 struck me afresh: "Weeping may endure for a night, but joy comes in the morning…" The eleventh verse of the Scripture made me shout: "You have turned my mourning into dancing." 
Seeing his daughter dance inspired Moss to share the message with his community:   
Sunday, I told the congregation that we must meet the threats in our lives. We must fight for justice, for our safety, and for the right to live in a world where we can thrive. But even in the darkness of midnight we can maintain a connection to the light. When we cannot survive in darkness by using visual tools of sight, we still have internal tools of memory to remind us of our terrain. Until dawn comes, we need more than the determination to fight for justice. We need love to keep us from getting lost in distraction, love to keep us from falling into despair, love to help us restore ourselves, get back into harmony with ourselves, so we can last through that dark night.  
"Dance," I urged them. "Dance in the dark!"  
And this, my siblings in Christ, is part one of The Long Goodbye.
Imitate me, I say courageously- allow the love of God to continue transform your life. Love one another and love those God sends our way. It sounds so trite and seems so simple. It really is simple and there is no rocket science to the command of Jesus. And yet, it is not always easy to love. Bad habits and bad behavior so often get in the way, often unnoticed. But love is the magic and love is the spice. Love is the Gospel and love is God. 
Imitate me by loving God, receive and nurture the gift of faith, let it grow deep roots in your heart and soul. Without God we are nothing. I don't know how people survive life's tragedies without God and God's abiding love and faithfulness.
Some of you worry about what and who will come next. If you excel in love, all will be well and in some sense, it doesn't matter who comes to replace me.
If this message has spoken to you and moved you to love, please stand with me as I pray for us.
Loving God, it is Jesus that we all seek to imitate because he showed us the way of love. Give us the grace to imitate Jesus, and to grow out of the things that are not in alignment with his love. Help us to excel in loving one another and loving you. Amen.